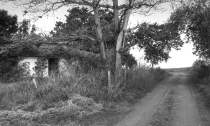 A House in Miller's Ledge 
If one were to travel three days by buggy from Green Hills, you would arrive at the quiet little village of Miller's Ledge. Upon approach you would notice the graceful steeple of the town church standing tall and white, a beacon like a landlocked lighthouse. You would also pass by the shops along its main road and the whitewashed, picket fences of its neat houses. Perhaps you would pause on the green to refresh your horse from the cool well and enjoy a freshly baked mince tart from Martha's Bakery in the shade of a sheltering elm tree. Resting on the soft grasses you would think that, if one were searching for a place to call Eden then surely Miller's Ledge would be a likely suitor.
Alas, dear friend, surfaces can be deceiving and one does not have to scra...
Read More